Paneer Bhurji is very simple and quick recipe made from Paneer.it is easy to make as well as very delicious.paneer bhurji is very nutritious because it is made by using paneer. paneer bhurji also goes well with poori and paratha in your breakfast or Dinner. so today we will learn How to make Paneer Bhurji at home.
Ingredients For Paneer Bhurji Recipe-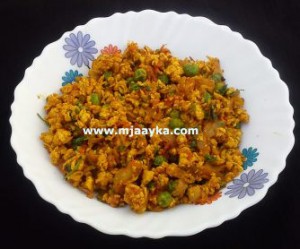 Paneer – 25o gram
Cumin seeds- 1/4 tsp
Red Chilly Powder- 1/2 tsp
Turmeric Powder- 1/2 tsp
Onion- 1 (finely chopped)
Green Chilly- 2 (finely chopped)
Ginger – 1 piece (grated)
Green pea – 1/2 cup
Capsicum – 1 (finely chopped)
Tomato – 1 (finely chopped)
Garam Masala powder – 1/4 tsp
Salt – as per your taste
Oil – 2 tsp
Coriander Leaves- 2 tsp (Finely chopped)
Method For Making Paneer Bhurji Recipe-
For making Paneer bhurji first of all mash paneer lightly.
Now heat oil in a pan and when oil heat up, add cumin seed to crackle it.
After that add turmeic powder, finely Chopped green chilly and grated ginger and fry it for 1 minute.
Now add green pea , capsicum and tomato and fry again for few minute. now, add mashed paneer , salt and garam masala powder and mix it very well by a ladle.
Now turn off the gas and it is garnish with chopped coriander leaves.
Delicious Paneer Bhurji is ready to be served with roti and paratha.
To Read Paneer Bhurji Recipe in Hindi click here
Richa Tomar