Homemade Peanut Butter Recipe
Today we are going to learn the popular and famous homemade peanut butter recipe. You can replace normal butter with peanut butter to incorporate it easily into your healthy diet.
Peanuts are taken as snacks in many households especially in India. It is because, Peanuts contain vitamins, minerals, nutrients, and antioxidants and thus are rich energy sources.
If we are talking about peanut butter its benefits don't end with its palate-pleasing power. It is a healthy fat. It is easily available in the nearby shops but we have to spend more money on it. 
No need to spend much money on this, because we will share with you the homemade recipe of peanut butter. This is economical as the mainly used ingredient is peanuts.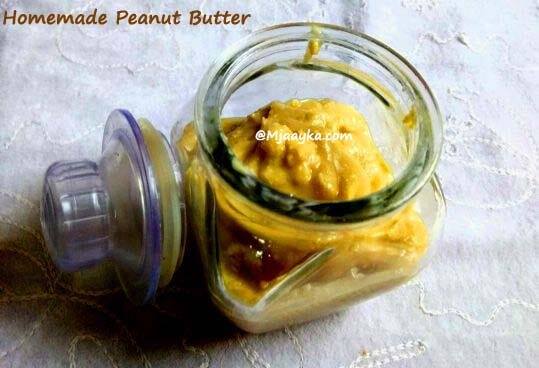 INGREDIENTS FOR HOMEMADE PEANUT BUTTER RECIPE–
Roasted peanuts – one and a half cup (remove the peel)
Honey – 1 tsp
Sugar – 1 tsp 
Salt – quarter spoon
Olive oil / Edible Vegetable Oil – 2 tsp
HOW TO MAKE HOMEMADE PEANUT BUTTER RECIPE–
For making peanut butter, firstly remove the peel of roasted peanut and now add roasted peanuts, olive oil, sugar, salt, and honey in the mixer and grind to a fine creamy texture.
Now check the ground mixture, if you want more consistency, add 1-2 tablespoon of olive oil as per requirement,
Again grind it which gives peanut butter a smooth and creamy texture. Now homemade and healthy peanut butter is ready to serve,
It should be stored in an airtight container and then put it in the refrigerator. It will be used for two weeks.
To Read Homemade Peanut Butter Recipe in Hindi Click Here.