Crispy Chilli Potato is a chinese dish. Nowadays people love it as starter, childrens also love it. If you love some spicy dishes then you will surelly love this dish. So today we will learn how to make crispy chilli potato at home.
Ingredients For Crispy Chilli Potato Recipe-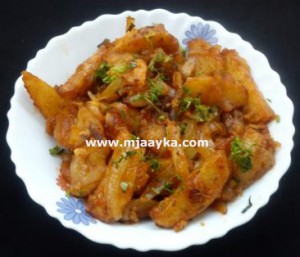 Potato – 3-4
Corn flour – 5-6 tsp
Onion – 1
Garlic – 4-5 cloves
Green Chilly – 2
Ginger Paste – 1 tsp
Tomato Sauce – 2 tsp
Soya Sauce – 1 tsp
Chilly Sauce – 1 tsp
Vinegar – 1 tsp
Salt – as per your taste
Coriander Leaves – 2 tsp
Method To Prepare Crispy Chilli Potato -
For Making Crispy Chilli Potato First of all peel the potato and wash and cut into long thin pieces. Now dip the potato pieces in chilled water for 15 minutes. After that take the corn flour in a bowl and mix with little water and now add Potato pieces in it. Corn flour coating should come on every potato pieces. Now heat oil in a pan, after heating up oil, put some corn flour coated potato pieces and deep fry them till golden brown colour and take out in a plate. Deep fry all corn flour coated potato pieces in the same way. Now heat oil in another pan, while oil gets heat up, add chopped onion and garlic and fry them for 1 minutes. Now add ginger paste and green chilly and fry for few seconds. After that add chilly sauce, tomato sauce and soya sauce and mix well over slow gas. Now dissolve corn flour in a quarter cup of water, and add in pan with spices and also add salt in it and fry for 2 minutes. Now add deep fried potato pieces and vinegar in it, mix well and cook for few minutes. Now switch off the gas and garnish it with chopped coriander leaves. Finally your delicious Crispy chilly potato is now ready to be served. Now place it in a serving bowl and serve hot.
To Read Crispy Chilli Potato Recipe In Hindi Click Here
Richa Tomar