We can make many dishes from Lauki, like- plain lauki ki sabji, lauki kofte, lauki muthia, etc. but now we will make a new dish from lauki – "Lauki Chana Dal". It is very delicious and also very beneficial for our health. People who do not like to eat lauki, they will definitely love Lauki chana dal curry.
Ingredients For Lauki Chana dal Recipe-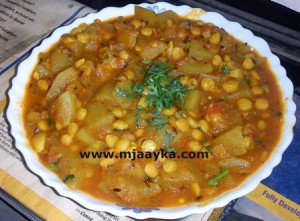 Lauki – 250 gram
Gram Dal – 1/2 cup (for 2-3 hour soaked in the water)
Tomato – 2
Onion- 1(finely Chopped)
Green Chilly – 1
Ginger Paste- 1 tsp
Oil – 2 tbsp
Asafoetida – 1 pinch
Cumin Seeds – 1/2 tsp
Turmeric powder – 1/2 tsp
Coriander Powder – 1/2 tsp
Red Chilly Powder – 1/2 tsp
Salt – As per your taste
Coriander Leaves – 2 tsp (Finely Chopped)
Method to prepare Lauki Chana Dal recipe-
For Making Lauki Chana Dal, First of all peel and wash the lauki and cut it into small pieces.
Now grind the chopped tomato, green chilly and ginger in grinder.
After that, heat oil in a Pressure Cooker. When oil heat up, add asafoetida and cumin seed to crackle it.
Now add turmeric powder, coriander powder and Red Chilly Powder and mix it by a ladle.
Now add Tomato puree and fry it for 5-6 minutes.
After that add lauki pieces and soaked gram dal, mix well and cook for 2-3 minutes.
Now add one cup of water and salt in it and close the lid of pressure cooker.
Once you hear one whistle of the cooker, slow the gas and cook for 4-5 minutes, now turn off the gas.
When the pressure of the cooker is over, remove the lid of the cooker and garnish with chopped coriander leaves.
Finally Your Delicious Lauki Chana Dal is ready to serve.
Serve Hot Lauki Chana Dal with Roti or paratha.
To Read Lauki Chana Dal Recipe In Hindi Click Here
Richa Tomar