Balu shahi is a very popular north indian dessert. It is very crispy and delicious sweet. Balu Shahi is a royal dessert as per its name. We do not require mawa for making Balushahi. In most of the festivals we make different types of sweets with mawa but if in any festival mawa is not available then its a better option, We can make Balu Shahi easilly. So today we will learn how to prepare Balu shahi at home.
Ingredients For Balu Shahi Recipe-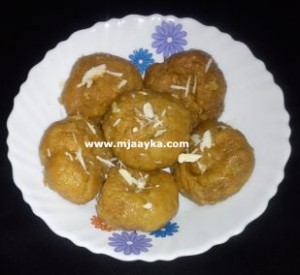 Maida – 3-4 cup
Ghee – 1/4 cup
Baking soda – 1/2 tsp
Yogur t- 1/2 cup
Sugar- 3 cup
Water – 1/2 cup
Pistachios – 1 tsp (finely chopped)
Green cardamom – 5-6 (finely grind)
Ghee – For Balu Shahi Frying
Method To Prepare Balu Shahi Recipe-
For Making Balushahi, first of all take maida in a large bowl, mix baking powder, yogurt and ghee with maida and kneed a dough by adding little water at a time.
It is not required to kneed the dough, just collect and cover the dough and keep aside for 15 minutes.
After 15 minutes mix the dough once, now divide the dough into small balls.
Make them in round shape and press to flatten them and make a thumb impression in the middle.
Make the all Balushahi in the same way.
After that heat the ghee in a kadhahi for deep frying Balushahi, after heating up ghee put 1-2 Balushahi in it and fry them till golden brown colour over slow flame and take out in a plate.
Do not fry Balushahi over high Flame else it will remain uncooked from inside.
Now We wil Prepare Sugar syrup for Balushahi, for Making Sugar syrup, Boil sugar and water in a pan.
After the first boil, slow the heat and boil the sugar syrup till it gets concentrated and make one string syrup.
Now transfer the deep fried balushahi in the warm sugar syrup.
Leave them in the sugar syrup for 5-10 minutes so they absorb the syrup well.
Now take the balushahi out from the sugar syrup and leave them in a plate for an hour to dry up.
Finally your Delicious Balushahi is ready to be served.
Garnish Balushahi with the chopped Pistachios and cardamom powder.
We can keep and use it for allmost 15 days.
To Read Balu Shahi Recipe In Hindi Click Here
Richa Tomar