Dal Dhokli is a famous Gujarati food which is very tasty and nutritious. Dal Dhokli can be prepared very easily in a very short span of time. Dal Dhokli is a very good choice for breakfast or dinner. It is a quite and very quick to digest, so today we wll learn how to cook Dal Dhokli.
Ingredients For Dal Dhokli Recipe:
For Dal or pulse: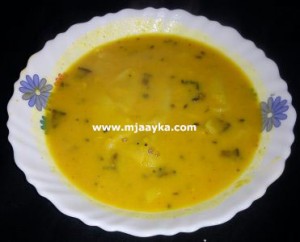 Tuvar(arhar) dal- 1 cup
Turmeric Powder- 1/2 tsp
Red Chilly Powder- 1/2 tsp
Salt- as per your taste
Jeggery- 1 tsp (finely broken)
Lime Juice – 1 tsp
Onion – 1 (finely chopped)
Coriander Leaves- (finely chopped)
For Dhokli:
Wheat Flour- 1/2 cup
Gram flour (Besan) – 4/5 tsp
Salt- as per your taste
Turmeric Powder- quarter teaspoon
Red Chilly Powder- quarter teaspoon
Oil- 1 tsp
Asafoetida (Heeng) -1 pinch
For the seasoning (Tadka):
Pure Ghee 2/3 tsp
Cumin Seed – 1/2 tsp
Mustard Seed – quarter teaspoon
Curry leaves – 9/10
Fenugreek seeds – 7-8 grains
Green Chilly & garlic paste – 1 tsp
whole Red Chilly – 2 (broken into two pieces)
Method for making Dal Dhokli:
we have to prepare Dal (pulse) first for cooking the Dal Dhokli.
Now for cooking the dal(pulse) we will clean, wash and drain it and we will put it in a pressure cooker alongwith 2-3 cup of water,turmeric powder, salt and red chilly powder. Cook it until you hear 2-3 whistles.
Now let the steam escape before opening the lid of the cooker. Remove the lid and blend it by running of the spoon.
 Now we will season the dal(pulse). To add season in the dal we will heat ghee on medium heat in a pan. When hot add asafoetida, cumin, mustard seeds, fenugreek seeds, curry leaves, green chillies and garlic paste, whole red chilli and fry it for a minute.
Now mix the dal(pulse) in this prepared season and also mix 1.5 cup(approximate) of water and jaggery in it.
Now cook the dal(pulse) again in low heat.
By the time jaggery will get mixed into the dal, we will prepare Dhokli for the Dal.
 Now for the making the Dhokli we will take wheat flour, besan (gram) flour in a bowl and we will add salt, turmeric powder, red chili powder, asafetida, oil and mix them well.
Now knead all the mixed ingredients into a firm dough using enough water.
Now Divide the dough into equal portions and roll out each portion into thin chapatis and add oil from both sides and cut them into square pieces.
Now put these squares into boiling dal(pulse) and keep on stiiring sometimes so that dhokli dont get stick in the bottom.
Now let the dal cook on the medium heat.
Now when the dhokli get cooked well in dal, turn off gas.
 Now mix lime juice, finely chopped onion and coriander leaves in Dal Dhokli and take it out in a serving bowl and add little ghee in it.
Delicious Dal Dhokli is ready to serve.
To read Dal Dhokli Recipe in Hindi click here
Richa Tomar