Dahi Poori is a very famous indian street food and specially girls just love it. You can get this street food almost at every corner of India. But Dahi Poori available on the streets might not be so hygenic and if you are a hygene lover, then you can prepare it home very easily. In India it is known as Dahi Poori chaat or dahi sonth ke batashe. We can prepare Dahi Poori in a very short span of time. So today we will learn how to prepare Dahi Poori at home.
Ingredients For Dahi Poori Recipe-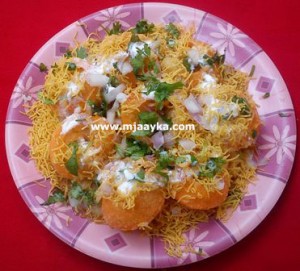 Readymade Golgappe- 7-8
Boiled potatoes-2
Beaten curd- 1/2 cup
Sev- 1/2 cup
Onion- 1 (finely chopped)
Tomato- 1 (finely chopped)
Green Chilly- 1 (finely chopped)
White pea- 1/2 cup (soaked over night)
Coriander leaves- 3-4 tsp (finely chopped)
green coriander chutney (salty) – 2-3 tsp
Sweet tamarind chutney- 4-5 tsp
Roasted Cumin powder- 1 tsp
Chat masala powder- 1 tsp
Red Chilli powder- 1/2 tsp
Salt- as per your taste
Method To Make Dahi Poori:
First of all boil white pea (soaked white pea over night) in a pressure cooker with 1/2 cup water and salt (as per your taste) until you hear 2 whistle of the cooker.
Once the you get the boiled white pea, then mash them and take them out in a bowl.
Now take the boiled potatoes in a bowl and sprinkle little salt over it and mash then very well.
Now we will place our readymade golgappas in a serving plate and make hole in each golgappa for filling.
Now fill your each golgappa with 1/2 tsp mashed up white pea and 1/2 tsp mashed up potato and after that put some chopped onion, tomato, green chilly, sweet tamarind chutney and chutney of green coriander (salty) in each golgappa.
Once you are done with filling, then finally add some beaten curd, red chilly powder, roasted cumin powder, chat masala powder, salt and sev over each golgappa.
Finally your Dahi Poori Chat is ready to serve and you can garnish it with coriander leaves before serving.
Note: It should be noted that you should serve dahi poori chat immediately after preparing it otherwise golgappa will become soggy and you will not be able to enjoy crispy and delicious dahi poori chat.
To read Dahi Poori Recipe in Hindi click here
Richa Tomar