The Neem Tree is mainly found in India. Neem is enriched with many medicinal properties which are very beneficial to our body. Neem protects us from many diseases and it is very beneficial for our skin. Since ancient times Neem is used as an antiseptic.we use different parts of Neem such as Neem leaves, Neem bark, Neem fruits, Neem oil and Neem stem (Datun), etc as herbs. so today we will discuss about benefits of Neem.
Health Benefits Of Neem: –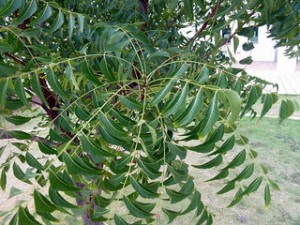 1. If you are suffering from ringworm, then you can grind Neem leaves in yogurt, Once you apply this paste, it will help in healing ringworm.
2. Anyone who is suffering from arthritis (joint pain) can apply warm Neem oil massage to get relieve from joint pain.
3. Neem is also an excellent hair conditioner. Boil Neem leaves in water and grind it to make paste of it. Now mix this paste with honey. once you apply this paste in your hair, it will cure dandruff and you hair will become soft and shiny.
4. If you want to cure boils and rashes, then you can grind neem leaves, bark and fruits of Neem in equal amount and apply this paste on the skin, it will heal boils and rashes quickly.
5. Neem stems (in india it is known as Datun) are used to clean teeth, which helps in keeping teeth healthy and strong.
6. If you mix coriander powder and Saunth powder in Neem Bark soup (kadha in hindi), it benefits in malaria.
7. If you chew Neem leaves, it purify your blood and it will keep you away from many skin related diseases.
8. On the occasion of Indian New year (Gudi Padwa), In Maharahstra, there is special significance of in-taking of Neem. It is a conception that if you chew Neem leaves on the day of Gudi Padwa, then it will keep you away from all kind of diseases over a year.
9. If you burn dry Neem leaves at night, it kills mosquito and there will be no risk of malaria.
10. For itching and skin related diseases Neem is very helpful. If you boil Neem leaves in water and then let it cool. if you take shower in it, it will be helpful in curing itching and skin related diseases.
To read Health Benefits Of Neem in Hindi click here
Image credit: wlcutler
Richa Tomar