Sattu Paratha Recipe
Sattu paratha is basically part of Bihari Cuisine.nowdays sattu is easilly available on all the shops but if you want to make homemade sattu. Now for making sattu at home,take rosted wheat and gram, and grind the both roasted ingredients in to fine flour.now we can use this roasted grind powder as stuffing for making stuffed sattu paratha.sattu paratha is very nutricious & delicious.so today we will learn how to prepare sattu paratha at home.
Ingredients For Sattu paratha recipe-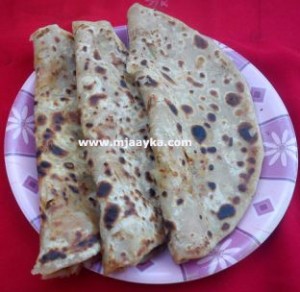 For Dough-
Wheat Flour- 2 cup
oil- 4 tsp
Salt-as per your taste
For Stuffing-
sattu- 1 cup
oil- 4-5 tsp
Asafoetida- 2 pinch
cumin seed- 1/2 tsp
ginger – 1 piece (Grated)
onion- 2 (finely chopped)
green chilly- 2-3 (finely chopped)
coriander leaves- 2 tsp (finely chopped)
mango pickle oil- 2-3 tsp
Lemon juice- 1 tsp
Turmeric powder- 1 tsp
fennel powder- 1 tsp
Red chilly powder- 1 tsp
Garam masala powder- 1/2 tsp
Dry Mango Powder- 1/2 tsp
Salt- As per taste
Method For Making  Sattu Paratha Recipe-
for making sattu paratha first of all take wheat flour in a large bowl, mix salt and oil with wheat flour.make a soft dough by adding little water at a time.
cover the dough and leave it for 20 minutes to set.
Now we will prepare sattu stuffing for paratha.seive the sattu flour in a separate bowl and add asafoetida, cumin seed, chopped onion, green chilly, ginger, coriander leaves, mango pickle oil, lemon juice, coriander powder, fennel powder, Red chilly powder, garam masala powder, Dry Mango Powder and salt and mix them well.
sattu stuff is ready to paratha.
Now take a small portion of the dough and make a ball from it and roll it 2-3 inch disc and put the 1 tsp sattu stuff on the disc and fold the disc from edges.
Roll it again with the help of the dry flour into 7-8 inches disc.
Heat the pan on the gas and put the rolled paratha on it. apply oil on both sides.keep on turning the sides untill it turns brown from both the sides.
prepare all the parathas in the same way. finally your delicious sattu paratha is ready to serve.
serve Hot Sattu Paratha with coriander chutney, pickle and yogurt.
To read Sattu Paratha Recipe in Hindi click here